In terms of the news, this story is already a fuzzy memory buried by heaps of stuff that has our eyebrows touching our hairline every day - a sad commentary on our modern sensational news cycles, but that's a post for another time. Despite the age of the story, you'll still be plenty familiar with the Thai youth soccer team that was trapped in a cave this summer.
Now, because we are a community that loves a mostly happy endings (
a heroic diver did die during the rescue process, after all
), it's likely that the bidding for the rights to the stories of the boys, their soccer coach and the rescue teams has already begun. The ups and downs of their story and the dramatic rescue will no doubt lead everyone in the movie business rushing to write and produce a story capable of luring just enough viewers to look OK in revenues next to the latest Marvel franchise movie. Maybe.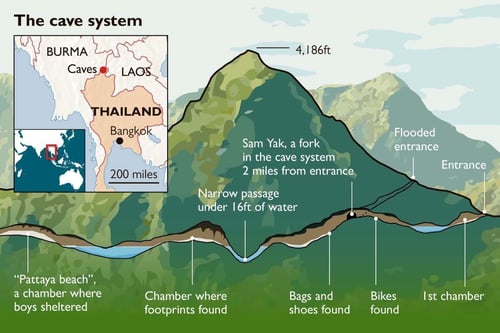 So let's look at one detail of interest in this story. After experts were published morbidly guessing the boys and their coach might be stuck in the cave system for months until the water levels dropped enough to be evacuated safely, there was a sudden change to work on rescuing them sooner rather than later.
The leadership it takes to make decisions in that kind of crisis situation is incredibly interesting and insightful. Decisions that impact whether individuals will live or die are among the most serious that someone will ever have to make and not everyone can do it. Those who do often have practice making impactful decisions leading up to life or death moments giving them confidence to draw upon.
That said, leadership is still an incredibly important component of a successful collection agency (or any business, really) and there are lessons to learn in extreme situations like the one faced in Thailand. Decisions likely do not impact the life or death of employees or clients but consider the significant risks associated with many of the choices that face executives and owners of collection agencies. The proliferation of lawsuits and regulatory enforcement actions mean there is a lot of money potentially on the line in the forms of fines, lost income, client losses, etc. Important issues and how leaders react or prepare for them affect the growth or death of an agency itself, which in turn directly affects employees and clients in profound ways.
I don't want to spoil the article for you, but the the five themes are:
Inherent motivation - calming people down, not firing them up.
Outward orientation - focusing on tasks and not emotions
Shared risk - people tend to trust leaders who have skin in the game
Common lifestyle - leaders who can focus on what unites them and the people they are leading perform better than those who are aloof
Competence - people trust leaders who they know will lead them out of the situation
Admittedly, the comparison is extreme, but the point is that in any crisis - be it big or small - there are learning opportunities (and maybe even a movie deal). One of your jobs as someone with a hand on the wheel is building a culture of leadership within your business. This is an important stepping stone to inspiring employees and fostering a thriving business that creates a new generation of future leaders.
Just make sure your software can keep up with you, support your business, and accommodate the oddly fluctuating changes in the industry, your company's future leaders, and your consumers' needs and desires.
Sorry, shameless plug - couldn't resist - but outdated software is a real threat to the success of a business, so it's relevant if that's your situation!